From
Computers in Libraries:


The First InfoTubey Awards: YouTube Productions@CIL 2007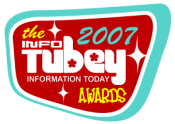 These awards will be presented to those organizations or individuals for outstanding YouTube productions. Premiering at the 2007
Computers in Libraries
conference, these awards recognize those creating YouTube library-related productions. Awards will be presented to the top five productions that demonstrate creativity, humor, and sincerity (of course!) in marketing a library or library services or enhancing the library's value. The winning productions will be shown at
CIL 2007
on Tuesday evening, 7:30 p.m. – 9:00 p.m.
CLICK HERE to submit a nomination. All submissions will be judged by a panel of distinguished information professionals.

Please complete this form to submit a nomination for Information Today, Inc.'s 2007 InfoTubey Awards.

InfoTubies recognize those libraries or individuals who have created YouTube library-related productions that promote a library, or library services, or enhance the library's value.